Buyers searching for Capitol Hill real estate will notice the neighborhood's diverse selection. Properties built here have experienced the influences of several different tenant types and architectural fads. Factors like available materials and labor impacted a home's look throughout the centuries. Many buildings also took years to complete. This resulted in a mix of architectural styles within the same creation. Here are some popular styles you might notice when traveling through Capitol Hill.
Neoclassical
Most of Capitol Hill's defining architecture features a
Neoclassical design
. The Neoclassical style comes from a combination of the Federal and Greek Revival styles. This style was prominent in the late 1700s and early 1800s when many important buildings were built. Buildings created in this style are recognizable by their symmetrical layout, domed roofs, tall columns, and triangular pediments.
There are several well-known examples of neoclassical design in Capitol Hill. The most well-known is the US Capitol Building, which started construction in 1793. The Capitol Building's designs took inspiration from ancient Greece and Rome. The US Supreme Court Building is another example of this style. Although buyers can't expect constructions quite as grand in their home searches, similar elements pop up in Greek Revival homes.
Georgian
Georgian-style homes predate the creation of Capitol Hill. This style was built mostly during the 1730s through the 1790s. Buyers searching for houses for sale in Capitol Hill can spot Georgian homes for their symmetry. They have a central bay, robust classical detailing, hipped roofs, and emphasized horizontal additions. Georgian homes also have sash windows. A popular example of a Georgian-style home is the White House.
Federal
The Federal style rose in popularity as the style of the new republic. Prominent from 1790 through 1820, some of the oldest buildings in Capitol Hill are Federal style homes. The original federal-style homes feature dormer windows. Other more modest iterations don't have this element. The Federal style was also exhibited in brick row houses. Row houses usually have some decoration at the entrance and cornice. However, the wood Federal row houses in Capitol Hill lack these additions.
The
federal style
is marked by its simple facades, straight lines, and low stoops. Single-family home versions typically have only two or three bedrooms. This style also has touches of Greek and Roman inspiration. These homes feature graduated windows that are arched. More upper-class iterations also feature round and oval rooms. Row houses in Capitol Hill commonly have modifications added to their exteriors and gabled roofs.
Italian
A large portion of Capitol Hill real estate is in the
Italian style
or one of its iterations. This style was very popular with the public from 1840 to 1870, around the Civil War. The first Italian villa form arose in the 1830s. The design was drawn from Italian country houses and had an "L" shape. A square tower would poke up from the center of the shape. A Tuscan form was also popular at this time and was square in shape. The house type had low-hipped roofs and overhanging eaves.
The Renaissance Revival form appeared between 1840 and 1890. This style reflects Italy's urban palaces and ornate design. Elements included windows with window hoods, simple forms, and organized fenestration. Popular buildings in this style include the Pension Building and the Masonic Temple. As Italian styles grew in popularity, it was incorporated into corner duplexes, free-standing buildings, and properties with other architectural styles. Eventually, the term "Italianate" was used as a catch-all for the style's decorative brackets.
Queen Anne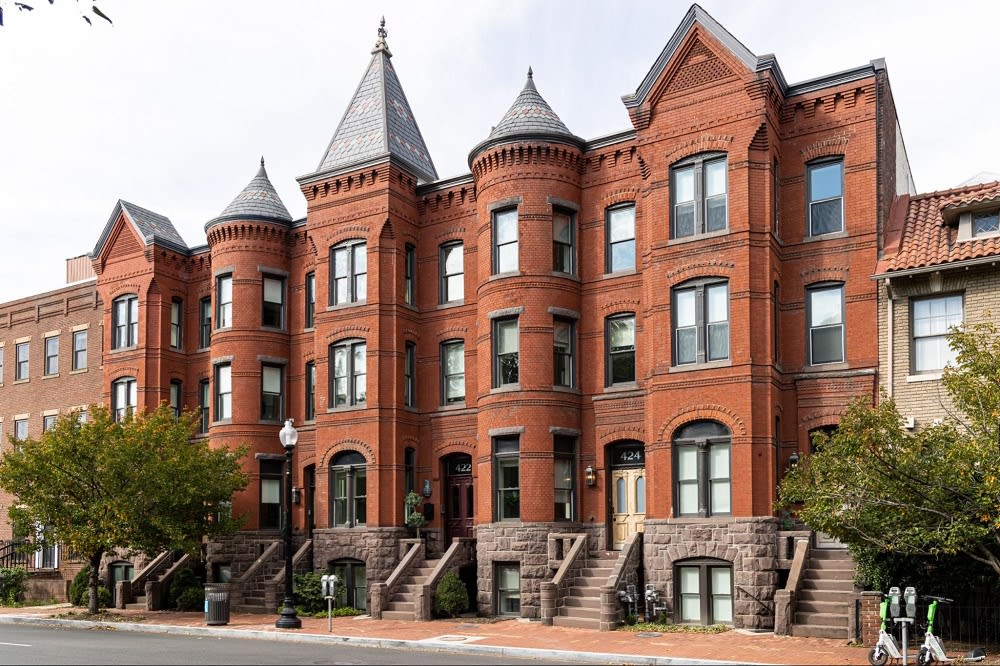 Image courtesy of Billy Wilson via Flickr
Under the larger umbrella category of Victorian style is
Queen Anne
. The Queen Anne style appeared in Capitol Hill during the 1880s to the 1890s. Originally, they were created as a stand against excess décor. Today they're known for their grand designs and structures. Queen Anne buildings unabashedly incorporated elements from preceding styles. This gave it an eclectic and whimsical look.
Originally, Queen Anne homes used a mixture of different materials. Wood shingles next to a stucco wall atop a brick foundation weren't uncommon. Windows were typically double-hung sash style with a stained-glass accent. These tall and towering creations were asymmetrical due to towers, turrets, dormers, and ribbed chimneys. The interiors were as asymmetrical as the exterior. Capitol Hills' influence on the style led to the use of pressed brick.
Georgian Revival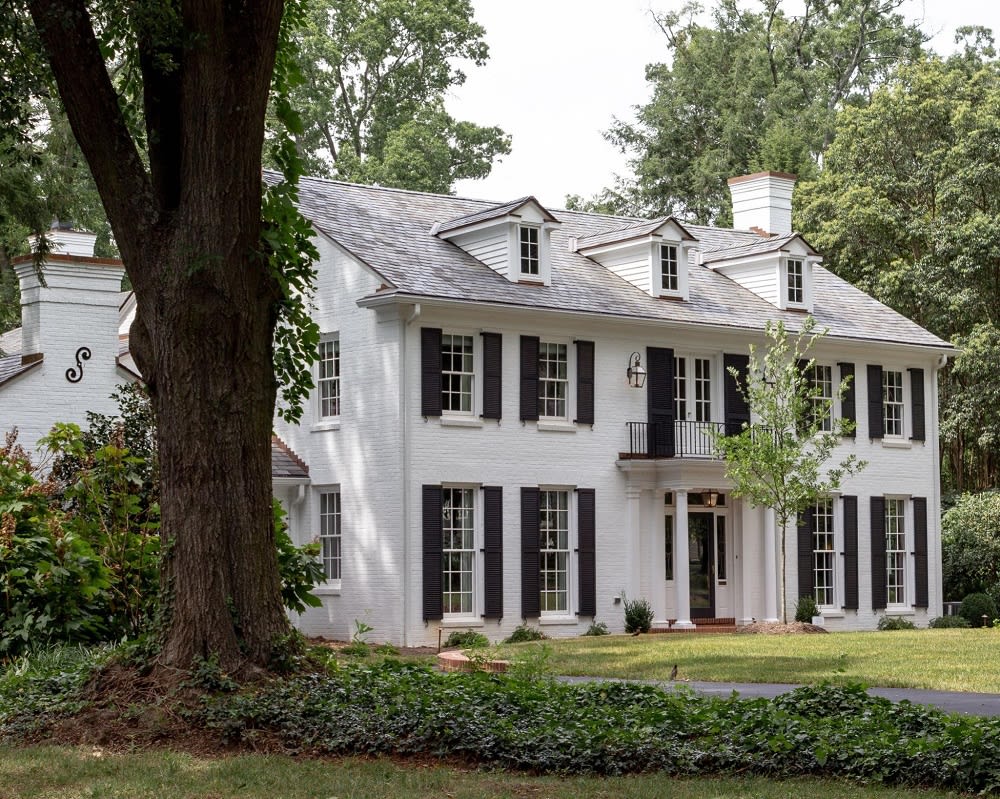 Photo courtesy of Shutterstock

The Georgian Revival led the way into the 20th-century Revivalist Period. Homes in this style were built between 1870 and 1920. These properties are reinterpretations of the earlier Georgian, Colonial, and Federal (also known as Adam) styles. They're marked by their use of red brick, white-painted paned windows, and sashed window design. These homes also have arched accent windows, classical details, and flat lintel openings with voussoirs.
Modernistic
Lastly, those searching for houses for sale in Capitol Hill will find Modernistic style homes. This style was a result of Paris' Exposition des Arts Decoratifs in 1925. As such, this style began in 1925 and lasted through 1945. Homes took elements from movements like Arte Deco and Art Moderne. To decorate homes, materials like vitrolite, cement panels, mirrors, stainless steel, and aluminum were used. These materials were shaped into florals, zigzags, and chevrons.

The Modernistic style can be spotted in Capitol Hill buildings like the Penn Theatre and the Folger Shakespeare Library. Some generic apartment buildings also feature entrances with Modernistic touches. This style marks an interesting step away from the neighborhood's historic and classically decorative architectural styles.
Ready to explore Capitol Hill?
Capitol Hill offers a wide range of architectural beauties to explore. Live in historic creations reminiscent of the US Capitol. Or partake in the popularity of Italian-style homes. It can be difficult to navigate the many options Capitol Hill presents. Buyers looking for a style that suits them should work with a local agent when starting their search. When you're ready to find a property you'll love in Capitol Hill,
Frank Snodgrass
is ready to help guide you through the process.

*Header image courtesy of Frank Snodgrass